Outdoor Landscape Lighting Service in Rockville, MD and the DMV area as well as Pinellas County, FL
Landscaping is an investment in your home that not only improves the appearance of your property, but increases resale value, as well. If you've recently had new or updated landscaping put in, don't forget the finishing touches: lighting!
Excellent and timely service in every instance





Excellent and timely service in every instance. Estimated charges were quite competitive and their communication process with respect to questions or installation issues was superb.
For the best outdoor landscape lighting service, turn to Rockville, MD & Pinellas Country, FL's trusted experts. Turn to M.R. Electricians for a finished project you'll love.
When it comes to landscape design and outdoor landscape lighting, there is an art to creating the perfect ambience. Adding tastefully placed lighting to the landscaping in your front or back yard compliments your home and also makes it a safer space. Spotlights and walkway lighting keep your property lit for visitors and gives would-be intruders less opportunity to trespass.
Landscape design is hard work. Leave the planning and installation to the professional team at M.R. Electricians. Our team has more than two decades of designing and implementing custom outdoor landscape lighting for customers across the greater Rockville, MD & Pinellas Country, FL area. We are certain you will love the way your property looks!
Landscape Lighting Installation and Design
Landscape lighting installation and design can be planned like any other home project, with a drawing of what areas to fill with what plants, and then where additional lighting would compliment the landscape design.
After the sketch is complete, you will select a location for a low voltage transformer that will be the source for all light fixtures. This transformer should be located near the fixtures. If your lighting design will stretch across a wide landscaped area, an additional transformer may need to be added.
Once you've inserted the chosen light fixtures in and around your design, you'll wire the fixtures to the transformer. You don't want to run a single wire from each fixture to the transformer –that would waste a lot of wire. Instead, minimize the total amount of wire by using a daisy chain, T-method, or hub method. If this is a foreign concept to you, it's best to work with a licensed electrician. M.R. Electricians are happy to help you complete your dream landscape lighting design.
Outdoor Lighting Service
At M.R. Electricians, we are the outdoor lighting service experts. The first impression your home makes is based on curb appeal – so why hide it in the dark? Outdoor lighting is becoming a trend as more and more homeowners realize the curb appeal that soft lighting adds to their home. Whether you are looking to repair your existing outdoor lighting or would like to install a new system, outdoor lighting shines your home in a whole new light! Make your home stand out from the rest and give your home the spotlight it deserves through innovative outdoor lighting. Servicing Rockville, MD and the DMV area as well as Pinellas County, FL call M.R. Electricians for your outdoor lighting service.
LED Low Voltage Lighting
Low voltage landscape lights are a common choice for outdoor landscape lighting because of safety, ease of installation, and energy efficiency considerations. By using LED low voltage lighting options, your property will be safely lit with energy-efficient bulbs that last much longer than the traditional bulb.
LED lamps have become prevalent in landscape design because they allow for larger lighting systems, often, without the need for larger transformers. Adding LED low voltage lighting to your property is a great way to achieve the curb appeal you've been looking for while also saving money on your electric bill!
Make a bold first impression.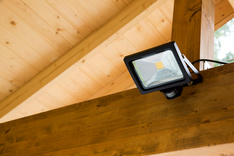 Transform the look and feel of your property with professionally-installed landscape lighting. Highlight architectural features of your home, garden, or trees. Shine a light on stylish home numbers or a brightly-painted front door. The possibilities are endless. We offer a range of plans, services, and lighting options to enhance your home's exterior beauty.
Amp up your home's security.
Well-lit homes are safe homes. Most would-be intruders prefer to work in dark and shadowy areas, where they won't be seen. When you add lighting to your garage, walkways, and front porch, you reduce the number of potential hiding places. A useful and energy-saving option is motion-activated lights. They send out a visual "alert" when movement is detected close to your home. Additionally, a well-lit front door and walkway help you to avoid personal injury and to make it faster and easier to locate your keys. Whatever your lighting security needs may be, our experienced electricians have you covered.
Get creative with your outdoor space.
Illuminated pond life. Cozy al fresco dinners. A game of Marco Polo under a watery blanket of soft light. There are so many opportunities for vibrant outdoor living. Why not get the most out of them? Outside lighting extends your enjoyment of fresh air and nature. Our professional lighting technicians install attractive, functional lighting solutions for backyards, patios, decks, pools, koi ponds, playset areas, and more. If you can dream it, we can likely install it. And we'll work with you to determine the best ways to make the most out of your home's exterior living space.
Your home is your private getaway— get more out of it with amazing outdoor lighting.
M.R. Electricians is proud to provide state-of-the-art landscape and security lighting solutions to thousands of homeowners in Rockville, MD and the DMV area as well as Pinellas County, FL.